Welcome to Milan!
Welcome to Milan, the capital of fashion, design and finance.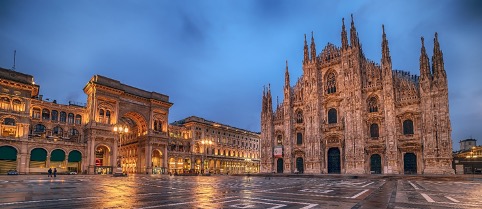 Much of Milan's artistic-architectural heritage is located in the historic center, which owes its current appearance to numerous urban rehashes carried out between the Unification of Italy and the early post-war period. The monument symbol of the city is the basilica metropolitan cathedral of the Nativity of the Blessed Virgin Mary, better known by the name of "Duomo di Milano", located in the homonymous square, the center of economic and cultural life of the city.
A short distance away is the eighteenth-century Teatro alla Scala, one of the most famous opera houses in the world. Connecting Piazza della Scala and Piazza del Duomo is the Galleria Vittorio Emanuele II, a covered passage with exposed iron and glass structures in eclectic style.
Another symbolic monument of Milan is the Castello Sforzesco, originally conceived as an exclusively military structure, it was later redesigned as an elegant court for the lords of the city. Not far away are the basilica of Sant'Ambrogio, considered the second most important church in the city and the complex hosting the church of Santa Maria delle Grazie with "Leonardo's Last Supper", declared a UNESCO World Heritage Site.
With Expo Milano 2015, the city was the protagonist of further architectural and urban renewal, starting with the huge complex that will rise next to the new Fair. A renewal not only urban, but also social and cultural.
Last but not least, don't forget to taste the traditional Italian and "Milanese" food!
On behalf of the local committee, I wish you a very interesting and profitable PCIC energy Europe conference and we will do our best to make your visit to Milan enjoyable. Have a wonderful stay in Milan.
Caroline Bishop | Kim Fumagalli | Luigi Bellofato | Jean Guilhem | Thibaut Jouvet
Conference venue: FAST | Federazione delle Associazioni Scientifiche e Tecniche (Piazzale Rodolfo Morandi, 2, 20121 Milan)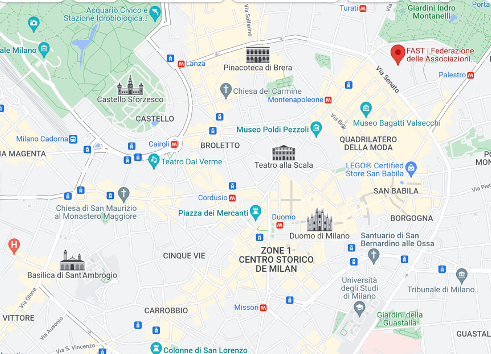 You can download hereafter the final program as of June 5th, 2023.
During the 2023 conference in Milan, presentations of the various papers were noted by the participants. You will find below the 5 best papers from these votes.
EUR23_22 – Developing SF6 free products with alternative gas
EUR23_24 – ReX and Recommendations for Mechanical Integration of Large High-Speed Motors
EUR23_09 – Electrical Engineering Challenges and Opportunities in EV charging
EUR23_02 – Shunt reactor compensation for subsea cables in industrial plants
EUR23_12 – Electric Power System Topology For High Capacity All-Electric FPSO